Bike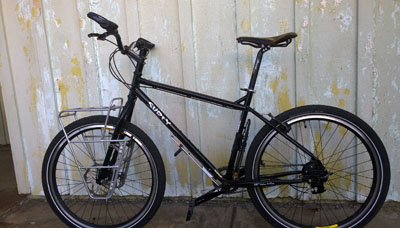 Bike Build Mar 2014
Surly Troll Frame
Rohloff 500/14 rear Hub
Schmitt Dynamo front hub
Supernova The Plug 3
Selle Anatomica Titanico X seat
Ritchey seat post
Velocity 36 hole rims
Schwalbe Mondials folding tires
Shimano Hg 90 Hyperglide chain 8 speed
Salsa flip off skewers
Shimano V-brakes (rear)
Avid BB7 (front)
Avid brake levers
Shimano XT crank arm
Chris King Bottom Bracket
Shimano Saine Flat pedals PD MX80
Chris King Head set
Ritchey Stem
Answer Aluminum alloy Handlebar
Ergon Grips
Surly Nice Rack
DT Swiss spokes
Serfas Thunderbolt headlight
Serfas Thunderbolt Taillight (2)
<![if !supportLineBreakNewLine]>
<![endif]>
About My Build
Ah, it's time to talk about my bike build. For the last 3 years I have been researching the ultimate bike build for my trip.
The main requirements were that it could handle pavement, dirt, gravel and lots of mud. also this build needed to be repairable in the most remote towns around the world.
This pretty much left me to a steel frame and 26 inch tires.
I did a lot of research on Tout terrain Silk road, Rodriquez 6 Pack, Surly Long haul trucker, Thorn Raven and Nomad, and finally the Surly Troll.
Each bike had something that I admired separately:
The Tout Terrain had the Schmitt Dynamo and The Plug.
The Rodriquez 6 Pack had the S & S Couplings making it very packable, but was not into doing 20 inch tires due to still testing my pack weight.
The Surly Long Haul Trucker had the great reviews and could pretty much do everything but extreme mud.
The Thorns had the Rohloff Hub, I decided early that I did not want to waste a lot of time with shifters and gearing and since I did not plan on a Kick stand, carrying around a spare derailleur.
Finally the Surly Troll. This is and all around work horse which I could easily put all my favorite items from the other bikes, Rohloff Hub, The Plug 3, Schmitt Dynamo, Workhorse and can add S&S couplers when needed.
The Second part of the Bike build was do I build it myself or have a professional do it. This was a quandary due to I have been working overseas for the last 20 plus years, so no tools and no garage. Do I buy a Park tools master mechanic set (around $5000) and rent a space, but due to my nomadic nature do I give it to someone when I'm done or throw it away and keeping what I need ( I'm bad at that, should sell it, but just have better things to do then wait for a buyer).
Do I have a professional do it. I have a deep distrust of others doing what I need done and doing it right, especially with the build I want.
Well I really lucked out, I went to a place called Q-Bikes and asked if they had Surly bikes, they said the boss had a surly in the corner. Wow I see this awesome Surly Moonlander Fat Bike with the rear frame custom cut welded to hold a Rohloff hub. Right then I knew that this is where my bike would be built.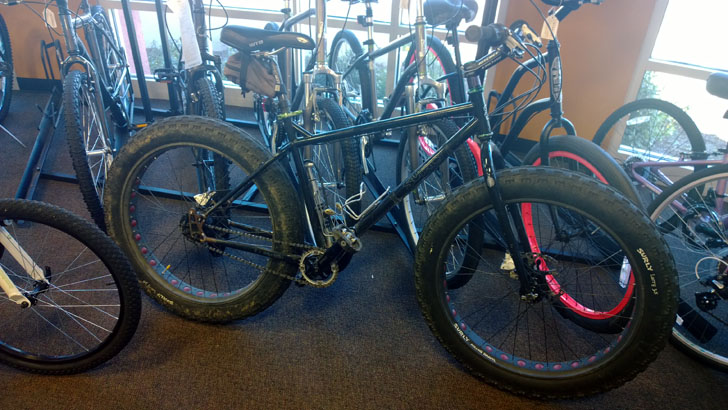 Xavier was the owner of the bike and later that night I met him to discuss the basic needs for my bike build. His friendly demeanor and knowledge was the final sell.
Xavier was a true professional, he took tremendous pride in his work and his knowledge of touring from experience was better than anything I could have read.
Throughout the bike build, Xavier's advise on parts from cranks, spokes, disc brakes in front, regular in back (Rohloff's drip, causing havoc on disc's), the list goes on and on. His personal touch and true pride in his work even impressed me. Well enough praising, below are the pictures of Xavier, his wife and crew. during the bike build.
Oh finally had to swap out new Rohloff shifter to older version, the new version has 2 plastic pieces I felt would break, the older version was very solid, Xavier was able to find one and have it shipped.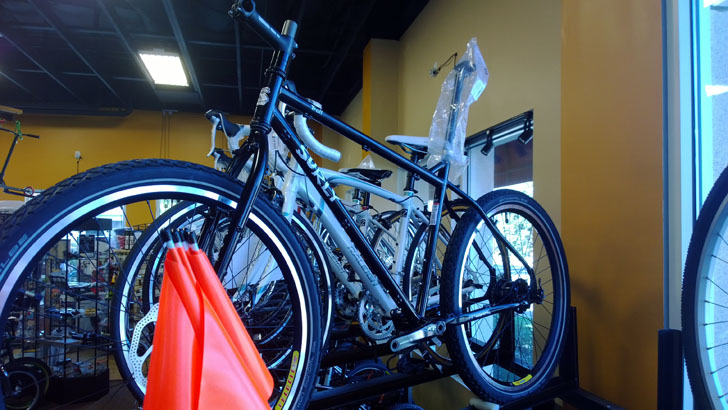 Xavier building Rohloff rim
Xaviers Wife and Crew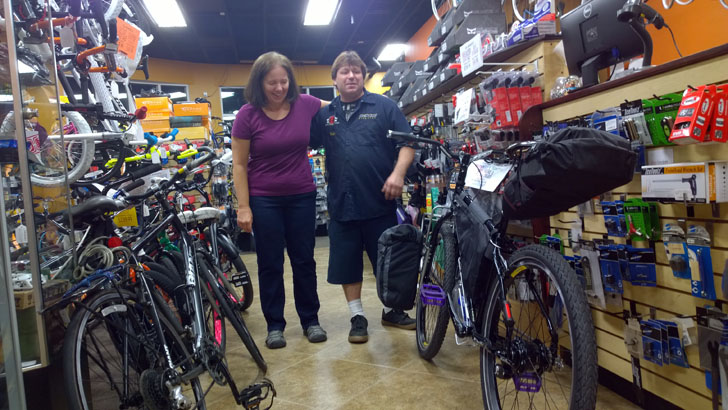 The Finish Line